This invitation design is available in two different color combinations. The first invite is in orange, green and black with a dash of purple...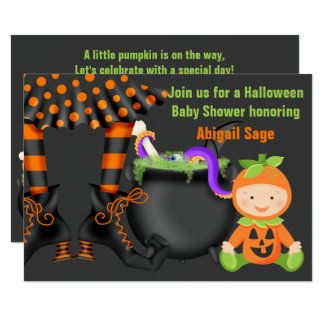 Cute Halloween Neutral Baby Shower Invitation
The second is all done up in orange, purple, greens and black...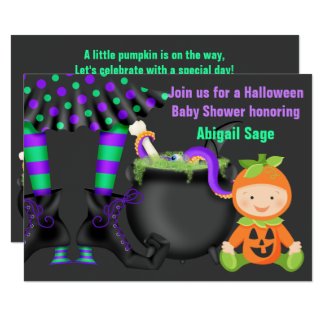 Cute Halloween Neutral Pumpkin Baby Shower Invite
Both designs feature a cute little baby dressed in a pumpkin costume sitting next to a set of witches legs and shoes, presumable the Mom-to-Be, and her cauldron overflowing with holiday surprises. They are a perfect choice for girls, boys and neural parties held near or on Halloween. Each invitation can easily be personalized on-line with all your party details. Just select the invites above to view additional information and edit.