These cute twin pirates little buccaneers are available on two different baby shower invitation designs. This first invite has them afloat on their boat. The sails are a flying and announcing, "Ahoy! It's Twin Boys"...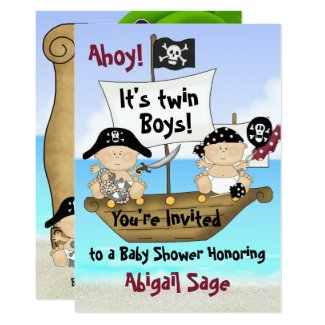 Twins Little Buccaneer Baby Shower Pirate Invite
The second design
features these cuties sitting with their impressive sandcastle. balloons and buccaneer gear in front of an old paper scroll with some cool typography announcing that two little pirates are on their way...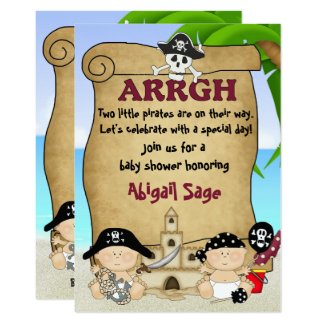 Twin Little Pirates Baby Shower Invitation ~ Boys
Both of these baby shower invites can easily be personalized on-line with the Mom-to-Be's name and all your party details. If you need a few more themed party supplies take a look at the following...